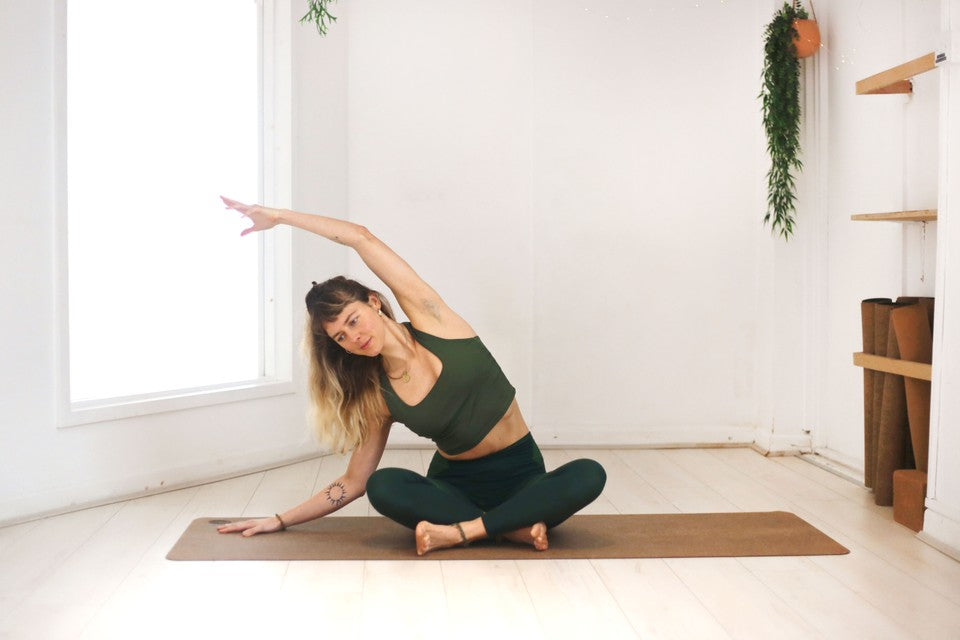 Bryony teaches various forms of flow at Trika, combining a blend of embodied movement, breath and connection to our intuition in her classes. She completed her 200hours with Rasa Yoga School, and often brings mantra, mudra and meditation to the mat.
We love having Bryony's warm and lovely presence in the studio, and today we are chatting to her a little bit more about the teachings she shares and a little bit about her life outside of the studio :) Enjoy her wonderful thoughts!
Hey, lovely to chat! Can you start by telling us a bit about what classes you offer at Trika? What do you love about the practices you share?
Mmm yes, I teach a lush blend of classes at Trika. From morning Vinyasa Flows, a beautiful way to start your day and feel into intention, to lunchtime Yin Yang Flow - although sometimes I teach the Yang to Yin depending on the energy of the day and how I feel the practice will be best received. Finishing on Thursday eve's with a sensational mix of Vinyasa (movement with creative sequences) followed by a restorative guided rest in the form of Yoga Nidra (yogic sleep), definitely a class I highly recommend to try :)

Aw there's so much I love about the practices I share. I'd say connection is the first one, I feel so grateful to meet a diverse group of souls throughout my different class times offered at Trika, it feels especially humbling when folk return, which I'm starting to see lots of (thank you) and you can begin to get familiar!

The variation is another love, that each class is at a different time of the day (& mostly style) which I am mindful about in regards to what I guide. Being able to experience with awareness how the body feels depending on the time of the day, with my deepest invitation for my students to listen from within and feel it for themselves.

Finally, I love to offer themes in my class as an anchor for the practice and student. This will most likely be aligned with the season, moon cycle, elements or a practice to deepen. For me, themes serve as a great foundation and eye of the class to feel into reflection, contemplation and spark magic from the inside out, all whilst offering movement. Guiding intuitively (feeling the energy in the room in that moment) and from the heart centre is everything for me. 
You're starting a new moon circle this July- can you share a little bit about what this looks like for those who haven't joined before? Why is it important for women to gather and why might we tie these gatherings to the rhythms of the moon?
Ooo yes, I'm so excited about the upcoming Moon Circle in July :) Of course - Sacred, Ancient and Powerful ~ 3 best ways to describe a women's circle. It's a space to connect, be seen and held without judgment. A circle that gives space for healing through the intention of making women feel held, safe and witnessed on their journey. It's a sacred space free of pressure or expectation of doing and achieving. A space to return home and to remember. To deeply love one another. During the circle I invite you to ground, connect to your breath, feel into the energy that is present and how to harness it, we will share, meditate, pull oracle cards, be still, chant, laugh, cry, move, feel, rest and more. 
It's important for women to gather together to REMEMBER. Women circles are within us, in our blood and bones. When we sit in circle we remember the Great Mother and divinity life holds. Through coming together, supporting one another, holding one another a collective healing can happen. A reawakening. Women are remembering it's not about competing, it's about collaborating. It's not about being the best, it's about connecting. It's not about being too much, it's about being exactly who you came here to be ✨
We often gather with the rhythms of the moon as the lunar energy is considered feminine. Nurturing, flowing and mysterious. In ancient times the moon was followed as a way to gauge time, one moon month equaled one month. They noticed changes in the tides and season at different phases of the moon. Honouring, worshipping and dancing in the moonlight become a sacred ritual and part of the cycle. As humans we are made from about 70-80% water and the moon is linked to the tides and the element so it gave us an opportunity to go within, tending to our needs as women.  Also, often a menstrual cycle happens every 28 days, like the lunar month deepening our connection to mumma moon. 
People love your flows - as well as your practice, what do you find helps you attain flow in your life? What makes you feel free?
Aw thank you, that's wonderful to hear. For me (being a Capricorn), routine and a steady foundation allows me to attain flow in my life. I love to explore, celebrate and go on adventures but having rhythm in my life with my yoga practice, sleep, eating patterns, social and work definitely helps me stay connected and grounded. Being more mindful of my needs, not in a selfish way, but with what will best suit my nervous system and gut, to keep me balanced and healthy so I am better able to stay present, focus, be in service, share and enjoy. Knowing myself better than ever is a big factor to establishing a juicy flow of life. Sitting in my power, having the privilege to make my own choices (whether that is where I share my energy, food related, what I wear etc), opening my heart to love and practicing the art of forgiveness, allows me to feel free. Nature is a huge healer for me so being in Mother Earth also allows for that inner freedom to be felt. 
Have you got any yummy summery food recipes you could share? We'd love to hear how you nourish yourself in the warmer weather :)
Yay loved that you asked a food question, as I feel I love food almost as much as yoga! Nourishment and eating well is a huge player in my life, thanks to my divine mumma. I'm still starting my mornings with warm water, often ginger tea, lemon or yarrow depending where I'm at on my moon cycle (no shocking the body first thing with a pint of cold water).

I'm a huge plant based eater and adore watery, spicy, crunchy and zesty things. Definitely noticed I'm craving less chocolate since it's become warm and more freshness. My go to summer nourishment right now would be a quinoa salad jammed pack with goodness from nuts&seeds, radish, wilted greens, sprouted broccoli seeds, fennel, loads of curly leaf parsley, nigella seeds, lemon juicy, extra virgin oil, tahini, salt&pepper and a big dolap of kimchi. BAM soooo yum, I try my best to eat seasonally and organically to nourish my body with the best kinda love.
Bryony teaches the following classes at Trika:
• Monday 9.30-10.30am Vinyasa Flow
• Tuesday 7-8am Vinyasa Flow & 12.30-1.30pm Yin Yang Flow
• Thursday 7.30-8.30pm Vinyasa Flow with Nidra
 Book your spots for those here.

+ Sign up to her moon circle, Sunday, 16 July, 12.45-2.45pm, here!