Thinking about what yoga to join after birth? A Guide to our Postpartum Offerings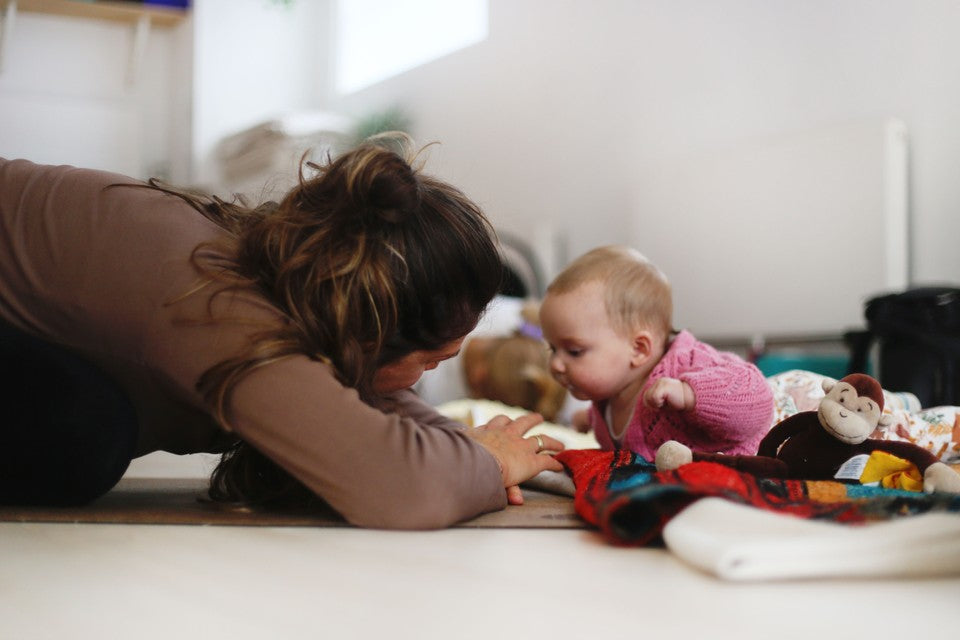 If you're a new parent looking for ways to nourish and reconnect to your body post birth, then welcome! We have so many offerings for you…
No postpartum journey is the same - we know that - and that's why we wanted to create as many routes into the studio for you, as many options as possible for all the different ways you could use this space as your sanctuary as you move through early motherhood. 
From massage to yoga with your babies, and without, we've got plenty to support you in this exciting and challenging new path you are navigating. If you have any questions about the below, then do do ask!! Or any suggestions as to other ways we could support you… we always love hearing your thoughts!
Enjoy exploring our postpartum offerings amazing mumma's 🙂
Massage
With Rosa, Tamsin or Olivia.
You are in special hands with our postpartum therapists <3 Massage can be a wonderful gift to yourself, or from a loved one, as you navigate motherhood. From the changes our bodies have been through in pregnancy and birth, to the demands on them as our little ones grow, you may want to explore massage as a way of releasing tension, ease sore spots or just generally reconnect to your body after all it has experienced.
In these massages, we tend to give extra care and attention to your abdomen, lower back, upper back and hips, but wherever you feel you need release, we will tend to! Rosa, Tamsin and Olivia are expertly trained in postpartum massage, and have worked with many mumma's bodies. They will have a chat with you before guiding you into our nourishing massage room, but you are also more than welcome to have a chat over email with them beforehand to discuss your specific needs.
Oh, and if your baby is still feeding or you would prefer to have them in the room with you, then we are more than happy to accommodate this. Just let our desk team know when booking!
You may book in for the following appointment lengths:
60 mins £55

75 mins £65

90 mins £75
And our postpartum therapists are available for booking on:
Rosa - Alternate Fridays & Sundays, and ad-hoc Thursday mornings

Tamsin - Alternate Fridays

Olivia - Thursdays & Saturdays 
Do check our booking page here for specific timings, and drop us a message if you don't see anything soon that works for you. We are always happy to try and accommodate as best as possible!
Our massages are complete with smells, candles, soothing sounds and heated for extra cosiness. What a beautiful gift.
Parent and baby yoga
If you're looking for something to do with little'un in tow, then our Parent + Baby Yoga sessions are the place to be! Held every Thursday at 10.45am with the lovely Sarah, these classes are a beautiful way to spend an hour of your day connecting with baby and yourself.
From 6 weeks old, we welcome babies and their parents in this fun-filled hour. While each session is different to suit the needs of the group on that specific morning, you can expect integrated practices with babies, including songs and massage, to help develop your deepening bond. All while we work with yoga movements, breathing practices and relaxation that help you connect to your body and mind in these new stages of motherhood. All closed off with a much-needed and nourishing savasana at the end.
Plus: We also host a MONTHLY Parent + Baby Ashtanga class, on the first Wednesday of every month, 9.30-10.30am! These are for those mum's who may have had an Ashtanga practice before baby, or just feel like moving in a different way with a lovely group of us, while baby watches and learns. Bring snacks and toys for little ones to entertain themselves, and feeding, changing, tending to are always all welcome. The whole premise is to take things at your pace in this guided self-practice of the primary series, with our babies present as we move. 
Plus plus: When Ashtanga isn't on, Wednesday mornings are always open as a FREE self-practice space from 9.30-10.30am. So do make use of this, with your babies, as you like!
For both of these classes, it's a wonderful community of us that come together, to feed, change, and tend to crying babes, as well as those crawling or just spending the hour fast asleep – all of you is welcome. We tend to stay for tea after and natter if that's something you'd like, as it's also a great way to meet other new mums in the area. 
Sound like something you'd like to join? You can book your spots here, or drop by the studio on the day if you're passing!
Our class Suggestions for new parents, based on what you're after :) 
You may also want to practise without baby in the room, taking some precious time to yourself if this is something available to you. We have plenty to accommodate this as well, so we thought as a wee guide, we'd categorise our classes to help you decide. As ever, any questions about the below, do drop us an email at contact@trikayoga.co.uk and our deskies will happily talk about classes in more detail with you!
 To rest & relax
Calming Yin

Restorative Yoga

Rest + Wind Down with Nidra
To move gently and encourage a calm mind
Gentle/Gentle Restorative Flow

Yin Yang Flow

Grounding Hatha
To reconnect to your strength
Vinyasa Flow

Mandala Vinyasa Flow

Warming Hatha

Energise + Release/Core + Release Vinyasa
Find our full schedule, with class descriptions and options to book, here. The above is not an extensive list, just some suggestions from us!
Do note: We also always say, if you had a specific style of yoga practice before birth, perhaps you practised Ashtanga regularly and would like to build back up to that, do explore the possibility of returning to these stronger practices if you feel comfortable, or have a chat with our deskie's to see the best route back if that's something you'd like! Our classes, even the more 'dynamic' ones, are always open to all and taking things at your pace, even in an Ashtanga class, is definitely encouraged. If you'd like more advice on this, do drop us an email.