Massage at Trika: Q+A with Tam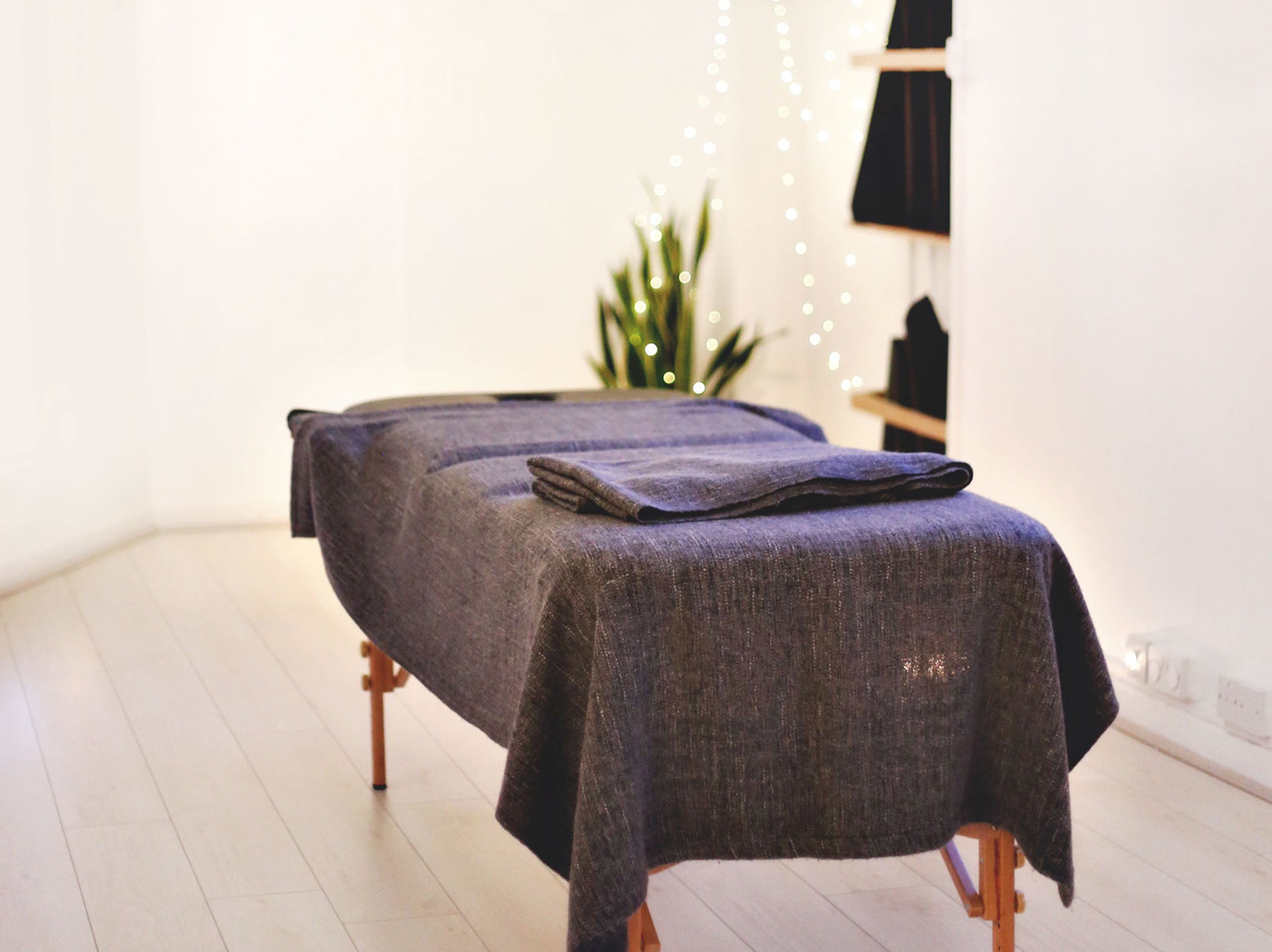 Massage has become quite a big part of our wee little yoga studio on North Street. Throughout the week you can step inside our plush sky blue walls and receive a whole myriad of treatments from our experienced, lovely team of massage therapists. One of them being Tamsin :)
Tam has been massaging at the studio for a few years now (despite a slight covid break!) and we know many of you have received some super lush experiences at her hands! Offering Holistic, Deep Tissue Massage and Reflexology, she has an incredible awareness of the body and a nurturing presence with her hands.
We decided it was about time to ask her a little more about how she came to massage, what her therapies entail aaand what she likes about offering them here with us at Trika!
What brought you to the massage therapies you've studied, trained in and offer today? We would love to hear a bit about your story :)
I have made body work my profession since 2017 when I passed my first training in Level 3 Complimentary Therapies (this combines Swedish Massage, Aromatherapy and Reflexology). I have since qualified as a Pregnancy & Post Natal Massage Therapist and Deep Tissue Massage Therapist. I have experience working in a Chiropractic Centre and I currently work at Wells Road Osteopaths, from my home practice and from Trika Yoga. My other passions are Healthy Plant Based Cooking, Yoga, Outdoor Life, Walking with my rescue dog Tiggy and spending time with my family (my husband and 2 daughters) and friends.
My focus is to offer you the best massage experience possible. Your massage will be tailor-made for your individual needs. For example you may have a very tight and painful shoulder and neck area and also be experiencing a very busy time at work. I will use deep tissue techniques to alleviate the tightness in your neck and shoulder while also using therapeutic techniques to bring you a feeling of calm and deep relaxation.
During a Massage Session I tend to use aromatherapy oils diffusing in the room and in the massage oil. This adds to your deep relaxation. Even if your massage is primarily for deep muscular work, relaxation helps you to let go of muscles that you are holding and enables me to work deeper into relieving your tension. Every year I deepen my knowledge and understanding of Massage and Reflexology through working closely with my colleagues and clients and by additional training.
What's the difference between Holistic and Deep Tissue massage and where would you recommend people start if it's their first one?
Holistic Massage
Holistic means 'whole' so this means that I treat you as a whole person taking into account your emotional, mental and physical health. Based on the techniques that come from Swedish Massage, the focus lies on longer, more flowing strokes to calm the nervous system and bring the body back into a state of calm and peace.
Whether you have had an intense period that maybe has an affect on your mental as well as physical energy levels, whether you have been working out a lot or just because you feel you need self-care. This type of massage is suitable for any type of person. You can discuss with me how much pressure you like and whether you have certain points where you are holding your tension.
I often include Reflexology in this session with your consent. This enables me to work deeper on problem areas including hormone balance, adrenal release and many more areas. It is deeply, deeply relaxing.
My goal is that you leave your session feeling light and happy, and deeply relaxed, enabling you to have a good night's sleep or be able to better face the challenges of the day.
Deep Tissue Massage
To relieve tension in the deeper layers of muscle tissue, I apply firm pressure, such as using my elbows and knuckles. It is not necessarily painful and I will work to your comfort levels. Deep Tissue helps you gain a wider range of motion, relieve stress and improve posture. As your physical (and therefore emotional) stress is released, your body begins to feel more supple and energetic. You might feel a bit sore afterwards though! However plenty of water and a hot bath, shower or compress on the sore areas will easily relieve this.
Tell us a little bit about reflexology... what does it entail and who would benefit from it?
Reflexology is based on the principle that there are reflex points on the feet that correspond to the organs, glands and bones of the body. When the energy flow between the reflex point and corresponding organ can flow unhindered, we remain in good health. When a blockage occurs because of tension or congestion, the organ weakens and we can become ill.
Reflexology therapy consists of applying pressure with the fingers to the feet. Work on the reflex points can help release the energetic blockages and restore balance to the system. At the same time blood flow, lymph flow and the transmission of nerve impulses are stimulated.
Reflexology does not claim to heal but rather works to help the body work at it's optimum health enabling it to restore balance. It is deeply relaxing and is particularly recommended for tension in the neck, shoulders and back. It is beneficial for migraine, headaches, digestion problems, menstrual pain and hormonal imbalance or during transition times in life such as Menopause. Reflexology during Pregnancy is particularly soothing.
What's your favourite thing about offering massage at Trika?
Trika Yoga studio is not just a studio, it is a community of like-minded people who come together for self care - you can feel this positive energy as you arrive at the studio. Being part of this feels nourishing for me. Massage therapy doesn't feel like 'work', it feels like a vocation and Trika is the ideal space to share a feeling of inner and outer peace. I had a period of time away from Trika (due to lock downs) and I felt there was an important part of my daily life missing. I am so glad to be back!
Tamsin massages every other Friday at the studio! Book an appointment with her - she's popular, so we'd recommend doing so in advance :)