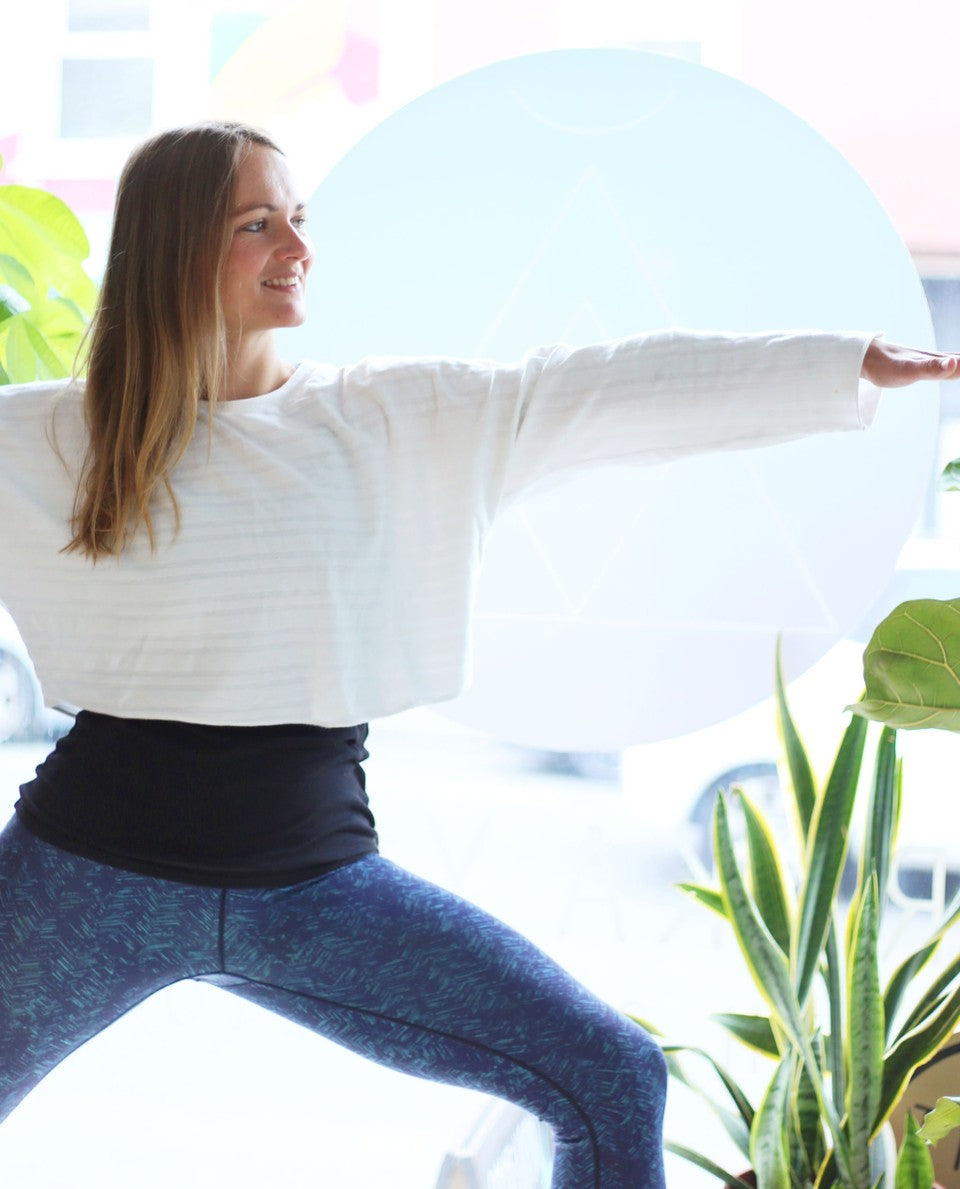 Tess first came to Trika as a student back when we first opened, and now she teaches with us regularly - lovely to have a familiar face as part of the fam all these years :)
She is a keen runner and cyclist (more about how she completed a triathlon below!) and has developed a regular Ashtanga practice, as well as delving into the softer, gentler side of things with Restorative and Yin.
She completed her yoga teacher training in 2018, exploring these complementary elements, and now teaches regular classes with us, focussed on strength, self-awareness and calm. Have a read below to find out more about lovely Tess…
Hey Tess, lovely to chat. I guess we should start by asking you what brought you to yoga?
Initially, I came to yoga for the physical benefits, slumped over the books whilst at uni, it seemed like a good idea to move my body, so I tried a class at my local gym. Little did I know it would open up a lot more for me than just a physical release, but also a delve into a more inner self awareness that until then, I didn't really know I had or at least didn't know how to access.
What do you enjoy the most about sharing the practice with your students?
Seeing people relax and be present. Life is busy and we live in a hustle culture that doesn't often value the benefits of slowing down, or taking time just to sit with your breath or explore making some shapes with your body, I enjoy being able to offer that time to my students. Often classes are only 60 minutes but I really enjoy being able to take people on a bit of a journey for that short amount of time, out of their heads and into their bodies, completely in the 'now'. It's a huge privilege to see people coming out of a class relaxed and renewed and as though a weight has been lifted.
We know you've been a dedicated Ashtangi for some time... what advice do you have for anyone wanting to, but are hesitant, to try this style?
Ashtanga is a very dynamic practice, there's no way around that, but a good teacher will always offer modifications and ways to make the practice work for you. If you're a complete newbie, let the teacher know, don't struggle at the back- you'll hate it! They should be able to guide you appropriately and there are often beginners classes to try too. Try not to let the 'status' side of ashtanga deter you. I've been to many ashtanga classes over the years, often there's a huge range in the room and everyone is really welcoming. If they're not, then they're not teaching it properly!
As well as teaching, I know you've been training for a triathlon - congrats! Was yoga part of your training programme?
Yes, I completed the Olympic distance of the Bristol tri in June. It was my first one and actually quite tough! I really enjoyed the training and having a push to get outside and run/swim/cycle, which are sports I've always loved.  I'm glad I did it, but now I'm looking forward to doing less cardio and more yoga! Yoga definitely complements an active lifestyle and (touch wood) I've never had any injuries from my cardio work, this could well be to do with a regular yoga practice. I feel like, in so many ways, yoga always has my back!
And finally, what's your best memory from 2022 so far?
Oh tough one, probably swimming off the west coast of Wales with some friends in May. The sea was lovely and clear and it felt like the first taste of summer! 
You can practice with Tess on Mondays Hatha Yoga at 7.30pm, and do keep an eye on the schedule for when she is covering Ashtanga!