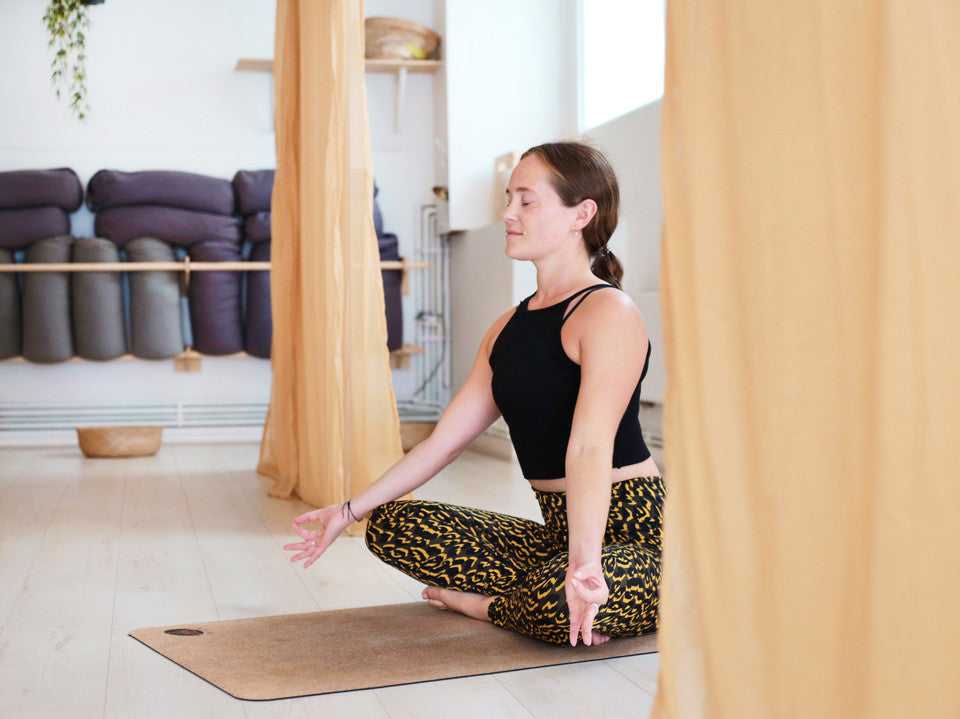 We met Emily back in summer 2020, where we were quite frankly blown away by her teaching. Nourishing, thoughtful and always accompanied by the most delicious of playlists, her classes are bound to leave you feeling held.
Teaching Grounding Hatha and Gentle Restorative, Emily offers a variety of styles for you to drop into your body and create some more space for anything going on for you. She always holds our popular Yoga for Anxiety workshops at the studio, inspired by her experiences of yoga alleviating the stresses of her own life. Oh and on top of that, she runs our New to Yoga Courses for those just starting out on their yoga journey's - lots of chances to move with her!
Enjoy hearing a bit more from lovely Emily today :)
Firstly, how are you? How has this year been for you so far?
I'm good! I'm excited for some sun!
Apart not being about to see my family regularly I have actually quite enjoyed the simplicity of this year and spending less money! My bf is feed of going for walks but I'm not :)
As challenging as the year has been I believe there has been a sense of community because we really have been in this together and what a rollocater it's been!
What does yoga mean to you?
Teaching yoga makes me feel fulfilled and happy. I believe yoga gives people the opportunity to let go and connect within themselves on a deeper level. Sometimes we go about our day to day routine without even checking in and asking ourselves, how do I actually feel physically and mentally? When we become aware of what's happening within our bodies we are able to work with it. I spend 2yrs working in stressful office environment and was filled with tension in my upper body from sitting at a desk. Yoga was literally the only tool that gave me a release of all the tension I was holding onto.
Have you got any daily habits/mantras/routines you'd like to share? 
I love mantras and use them when I teach, because I think they are so powerful for the mind. 
When I'm feeling particularly anxious I right down 10 different mantras and repeat them to myself each morning. I find this a great way to start the day and feel confident in my own skin.
When I'm doing my own practice i try to listen to my body rather than my ego. I give my body what is needs in that moment, that may be a strong flow or something very gentle. 
How do you stay motivated/inspired? 
Reading. Cooking. Learning. Moving to music. Being in nature. 
Also...doing a variety of different classes! I enjoy learning from other teachers which keeps me inspired and motivated to share what excites me with others.
Have you eaten anything particularly yummy lately?
Yes!! A feta and spinach filo pie with pine nuts and tomatoes! Such a great summer dish! I serve the pie with a fresh salad and homemade dressing (lemon, honey, garlic, cider vinegar, salt and pepper) I LOVE FOOD
What's your favourite memory from 2020 and what are you looking forward to in 2021?
My favourite memory from 2020 was my brother Proposing to his girlfriend on Christmas Day. 
I'm looking forward to dancing at a party (or in a field) and giving my mum a big hug without feeling guilty about covid!
Join Emily for classes every Tuesday 4.45pm and 6.15pm Grounding Hatha, 7.30pm Beginners Course (4 week blocks), Wednesday 4.45pm Grounding Hatha and Thursday 7.30pm Gentle Restorative Flow.