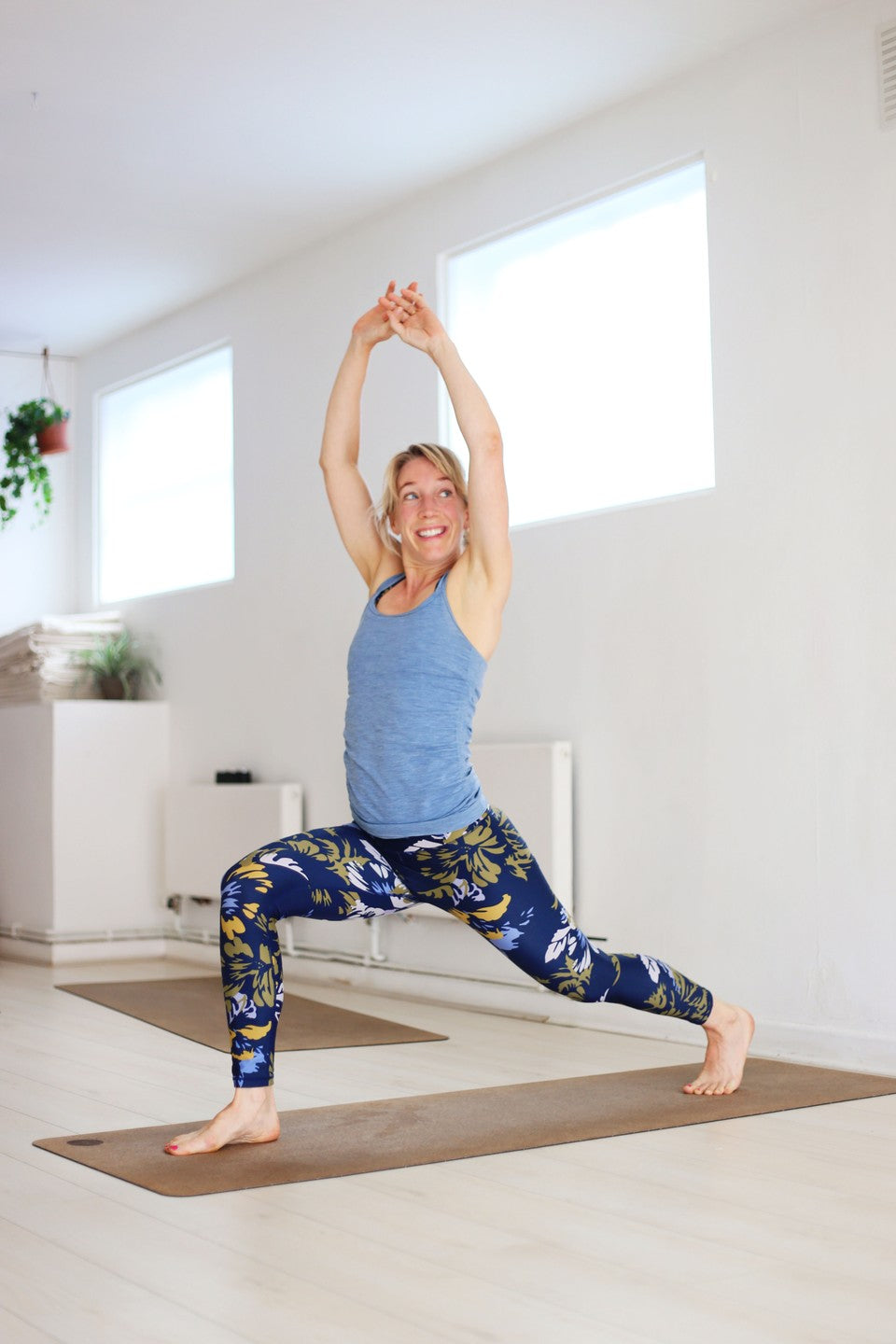 Expect to come out Sarah's classes with new found strength and vigour. One of our longest-standing  and beloved parent + baby yoga teacher, there's always a playful, challenging aspect, combined with heartfelt mindfulness.
Before moving to Bristol, Sarah lived in Singapore where she completed her 200hr teacher training, deepening into the spiritual aspects of asana through breath and meditation. Her parent + baby classes nourish and replenish mumma's post-birth and have brought such a lovely community of parents together. Enjoy learning some more about Sarah and her classes below!
1. What's your favourite memory of 2020?
A trip to Cornwall in summer where we got to hang out with friends and family, walk in the woods and swim in the sea and life felt pretty normal. I was also very content in those first weekends of lockdown 1 when it is was spectacularly sunny and the simplicity  of just being at home with my family, cooking on the BBQ, pottering in the garden, discovering new walks locally and one mad night sleeping out under the stars ( complete with dew sodden duvets). It was initially a respite not having to keep up with the normal hectic sports and social calendar. It taught me to be OK just hanging out at home when previously I have always been so focused on going out and doing stuff.
2. How do you stay motivated? 
I have fits and starts and lockdown/homeschooling have really challenged my motivation. I got back into running over this last lockdown and the Strava App was very useful for measuring distance and speed, joining challenges and allowing me to compete with my husband, David. We set a target of running 100km in Jan and Feb, admittedly he beat me, but I got to 80km which I was happy with considering I hadn't really run for years. I used to run marathons so I think you do have that muscle and endurance memory. With my yoga I like to keep learning and have some teachers I adore, so in that sense lockdown has been positive as lots of these people have been more readily available online. I've been doing a 6 month teacher training course with Sianna Sherman, training with Jason Crandell and loads of classes with Noah Maze and more recently Jenni Rawlings, who is brilliant at bringing strength training into yoga and plugging some of those gaps that yoga can leave. The latter is great for feeding into my Strength & Conditioning Yoga class with Trika.
Music and podcasts depending on my activity also help me focus; I spend a ridiculous amount of time curating playlists for different situations/moods. One of the most joyous experiences in a yoga class 2020 was with teacher Leila Sadheghee who curated a class with an entire Prince playlist, by the end of Sometimes it Snows in April I was in bits but brimming with joy. My playlists have been known to make me cry and or dance on a run, particularly during this past year - so cathartic!
3. What does yoga mean to you?
Yoga has been a constant for nearly half of my life and it's looked like and meant many different things in that time. First and foremost it means magic to me - the way you can get lost in your yoga practice and transported. It has also helped keep me sane, manage anxiety and make me more flexible than I would be otherwise (I think I'm the opposite of hyper mobile!). It's introduced me to friends, teachers and students all over the world, and it's enabled me to keep learning as it is so multifaceted; I've learnt things about anatomy, physiology, philosophy, religion, music and on a memorable tantra course how two massage a banana!
4. What have you been enjoying eating lately that's been particularly yummy?
I've developed a habit over lockdown of an almost daily serving of Pip & Nut's chocolate almond butter cups. They are so good and I tell myself that they are kind of healthy. I cook a lot and have been loving Meera Sodha's book East for the most authentic South East Asian flavours - she creates the perfect umami bombs!
5. What are you looking forward to in 2021?
I'm writing this on March 8 - 'Send Your Children Back to School Day' - I have found moments of joy in homeschooling and found this last bout easier than the first but I have struggled to do everything and my energy levels and mood have dipped. I'm looking forward to having time to focus on my own practice and learning, finishing my further teacher training course, exploring new places and of course hopefully lots of time with friends and family and maybe even dancing in a field with lots of other sweaty people to some amazing music not in my headphones. Oh and hugs, lots of hugs!
Join Sarah for Parent + Baby Yoga on Thursdays at 10.45am here.