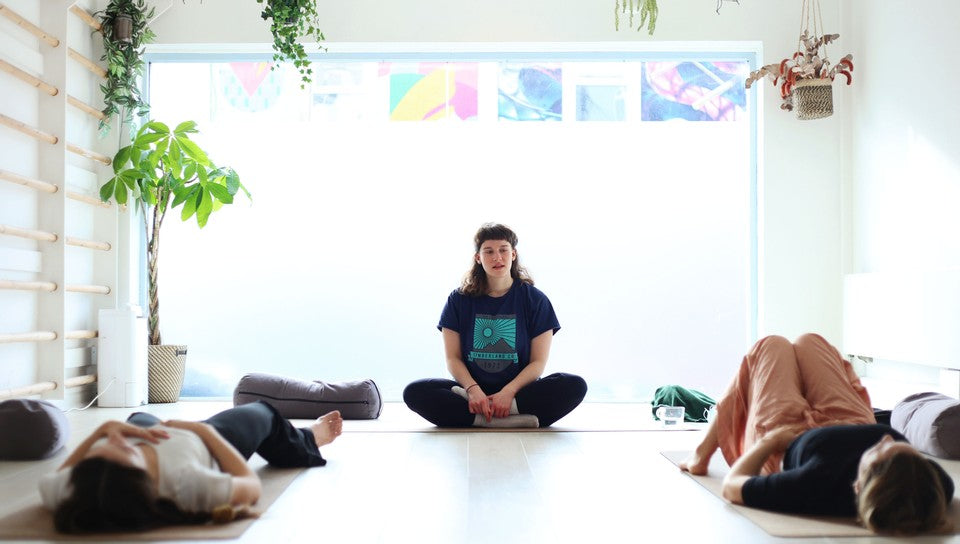 Kate - our resident musician and gorgeous teacher you'll also see working on the desk! Her classes are always beautifully woven together, her soft soft voice lulling us around the mat. Even in challenging postures, Kate makes everyone feel held, helping cultivating balance and focus while also finding deep rest and grounding - a true release.
Kate started practicing yoga when she was studying songwriting, so there is always a rhythm to her classes. She teaches Hatha and Vinyasa with us, as well as a special monthly class Flow + Rest with Sound on the last Saturday of every month. Here's a lil catch up with Kate.



1. Tell us a little about your relationship with yoga :) What brings you to your mat?
My relationship with yoga started when I was at uni. I started going to classes and it quickly transformed into one of the things I looked forward to most in the day; A time to be with others in a safe space moving in rhythm, checking in with my breathing and having a better awareness of myself. Once I started practicing, many more aspects of yoga emerged for me that weren't immediately obvious. It continues to be a gentle reminder of the sense of unity we can create with ourselves, with others and with the wider world.
2. What can people expect from a Kate-led yoga class?
Usually my classes include a gentle but strong flow with focus on breathwork. 
I try to begin each class with a breathing exercise, to welcome people into a space focused on mind, body and breath. I find it important to create that sense of coming full circle in class so when we open up ourselves into the space, we have that initial check in with how we're feeling and I like to repeat this at the end. So we have that sense of opening and closing a space. Also, we can have some insight into how we're feeling at the end compared to how we did when we came in at the start. 
I will sometimes include longer guided meditation and visualizations at the end of my gentler, slower paced classes. I find these can help really drop into that meditative, relaxed state at the end of class. 
3. What would you say to anyone who's nervous/unsure about starting yoga?
There's no right or wrong to practice yoga. There's no particular way you should be feeling during or after a class. The practice is about finding something that works for you, that helps you to connect to different parts of yourself. I would say just experiment with it, try out some different styles with different teachers and see what feels good for you! Yoga isn't a competition or a place to push your body into something that doesn't feel right for you but a space to explore what it is to be alive. To welcome in a little more openness to both body and mind, to reconnect with the breath and in turn with the present moment. 
We will have a different relationship with our practice just as we can have a different relationship with ourselves every day. Showing up for yourself is one of the biggest things you can do! 
4. You're also a wonderfully talented songwriter and musician <3 What does music mean to you?
Aw thank you. Music to me is a form of expression and I find writing and recording music to be a process of healing (much like yoga!)
My songwriting can capture snippets or a moment in time which I wish to distill and pick apart the details to help me understand a situation better. It can be a mindful way to digest life situations and events to explore relationships and develop a deeper sense of empathy with others. 
To share these experiences with others through live performance and recording feels so special and valuable to me!
5. If you could only listen to 3 songs for the rest of your life, what would they be? (hard one, I know)
Wow, such a tricky question! I feel like it would change depending on what day you asked me hehe. 
But today I would choose: 
From the Morning, Nick Drake. This is a song from my childhood. My parents used to listen to a lot of Nick Drake and John Martyn. The Album Pink Moon which this song is taken from feels especially magical, it's very stripped back, mostly just guitar and vocals and I believe it was all recorded in just one night! From the Morning particularly resonates with me lyrically in its simplicity but also in the depth of the meaning of the words, especially the lines: "And now we rise, and we are everywhere" 
N'yanyan, Rokia Kone. A fairly new musical discovery of mine. I find Rokia's voice so moving and emotive!  This song in particular feels very powerful, even before I looked up the meaning of her lyrics you can feel the emotion of what she's saying in her voice. In her own words she says "I sing the song 'N'yanyan' for all human beings, to tell them that we are in the middle ground and all this will end one day. The message of the song is that whatever difficulties you are facing right now, it is only a moment in time, and all things will pass." 
Spiritual State, Nujabes. I think this song might be one of my most played. People who have been to my classes will probably have heard it being played many times in class. I love the steadiness of it with that dreamy piano melody. I first heard it when I was in my friend's car. It was a cold frosty day but really sunny. I think I had just woken up from a nap and she put this song on, it was like the countryside moving outside the window matched the song perfectly.
6. And finally, any gigs coming up we could see you play at?
I run a monthly sound and flow class at Trika. You can join me every last Saturday of the month 5.45pm  -7pm for a gentle flow followed by relaxation, meditation and live music
You can follow my band project @lullaboon on Instagram and Facebook where we post updates on new gigs and releases.
Book a spot on one of Kate's yoga classes here.